13 June: We arrive at Keflavík Airport just before midnight, surprised how warm it is (12 C).
14 June: We'd forgotten that the Chairman of P.R. of China (what's his name again?) was arriving more or less the same time as we were - there's a whole bunch of Falun Gong followers protesting (in the form of group meditation on the grass!) in town centre, and the bus we are on is diverted. A couple of months ago, our taxi to airport in Berlin got stuck in a mini traffic jam due to a Falun Gong demonstration during the said Chairman's visit to Berlin. We suspect he's a secret UsaKousa fan and is following us around...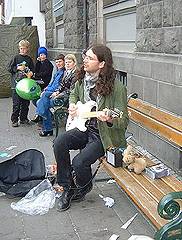 UsaKousa sticking their ears right up
the Marshall amp (yes, it is a
genuine Marshall amp - though
we are not sure if it goes up to 11...)
17 June: It's been sunny and *hot* all weekend, but today - the National Independence Day of Iceland, the sky is cloudy and the wind is cold and very strong. Nevertheless we go out into town to catch up with some of the festivities.
Vardi (star of Vardi Goes Europe and featured in our report of the Icelandic events in Berlin in April) comes out with his guitar and goes busking with his friend Brynjar Larsen, so we follow them - UsaKousa sit on the bench with the two musicians and the miniature Marshall amp, getting squashed from time to time, but they love being rightthere at any musical performance...
(Click on any of the images to
view it at a larger size)


21 June: It's the Midsummer's Night. We go out and have a nice (albeit very cold) midnight walk with Vardi, along the coastal path westwards up to the artificial beach** at Nauthóksvík, where we stop and take some pictures.
[** Well, the temperature of the sea water here is too low to swim in, so bathing on the beach was impossible/unheard of - until they made this artificial sand beach, with a small pool of heated seawater and deckchairs scattered around it, a few of which you see here in this photo on the right. A nice, cosy beach, we can imagine people sunbathing here on hot, sunny days, but there was no one around except some kids running around, fully clothed, when we were there. No wonder - if you look at how much clothes Vardi's got on, you can have an idea of the weather on this evening!]
We walked back through the Öskjuhlíd hill where, apparently, many wild rabbits live. (Rabbits are not indigenous to Iceland, it's just that some pet rabbits have escaped and quickly built a big community in this area of town in the recent years!) And yes, we spotted this one at the bottom of the hill - munching away, even when we got fairly close to it to take the photo. (And no, it wasn't as black as that in real life, nor was it that dark. Just blame our crappy Fuji digital camera!)