If you click on the image, a larger version (500x375) will appear in a separate window.
Part 1: London, 21 April 2002
Usako & Kousa flew in to London, to catch Odin's Raven Magic, a concert project by Hilmar Örn Hilmarsson and Sigur Rós, reinstating a section of Edda (that's old Icelandic mythology written in the form of prose and poetry between the 9th & the 13th centuries) which has been thrown out by some Norwegian scholars in the 19th century and neglected for a long time, until "found again" in the recent years.

The piece was being premiered at the Barbican Centre, before its performance at the Reykjavík Arts Festival in May, and the tickets for this premiere had been completely and utterly sold out for weeks in advance, so we were extremely lucky to have been able to attend the show at all. (Thanks, Hilmar!)

The left half of the large Barbican stage is filled with members of London Sinfonietta, conducted by Árni Hardarson, a choir called The Sixteen line up at the back, Hilmar and Sigur Rós occupy & move around the right half of the stage. In the middle is a massive stone marimba, designed by the artist Páll Gudmundsson, consisting of 54 naturally formed & untouched stones, lined up in scale. The instrument was big/wide enough for Hilmar and various members of the band to stand around it, up to 4 at a time, playing it together.

Steindór Andersen, chairman of an Icelandic society dedicated to traditional Icelandic songs, stands in stage centre and literally above everyone/everything else onstage, both visually and musically, with his deep voice chanting the original Icelandic verses. (Both the original text and an English translation - by our friend Eysteinn Björnsson and William P. Reaves - were printed in the programme, and can also be found at: www.hi.is/~eybjorn/ugm/hrg/main.html.) And behind all this, black & white, partly very abstract, partly concrete but very slowed-down, video images by Sigur Rós were projected onto a screen.

The performance offered a real mixture: orchestral arrangements of Hilmar's melodies (which anyone who is familiar with his soundtrack work would probably recognise as his music ;-) were very dramatic, the simple but beautiful patterns played on the stone marimba adding contrast and texture. The parts where Sigur Rós interact with the orchestra sounded slightly unsure to us - apparently they had finished writing the music the night before the premiere!! - but we are sure that they can be further developed. (We all know from Jon Lord's Concerto For Group And Orchestra how a piece can develop as it is performed again and again, and we'd like to see/hear Odin's Raven Magic performed a few times, to see how it's changed from the last time. It's that kind of organic piece, we feel.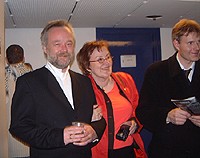 Backstage after the show: happy-looking Hilmar, with Thorunn Sigurdardóttir from the Reykjavík Arts Festival, and Páll Gudmundsson.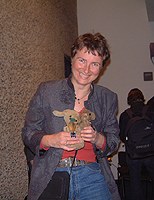 Another backstage shot, another old friend from Iceland: UsaKousa with Gunna Sigga.