Usako & Kousa's summer trip began in mid June, when we flew to New York with Icelandair. Unfortunately most of our East Village friends were out of town (except Caspar and Kumiko, with whom we had a nice Izakaya dinner.) Bad timing. Oh well. Main purpose of our trip was to catch 3 more Deep Purple shows, so that Usako & Kousa could bang their heads yet again.

At this point, we'd like to apologize for not updating these pages for a long, long time and not keeping you informed of what we've been up to this year. Well, in late March we were in Japan, where Usako & Kousa head-banged to Deep Purple with New Japan Philharmonic Select Orchestra (and Special Guest Ronnie James Dio) on 2 nights in Tokyo, followed by another Deep Purple concert (without the orchestra) in Sendai. By the end of our trip, of course, Kousa's head started to come loose again!!! (If you haven't read about Kousa's previous head injury, see the September 99 entry on our news page.)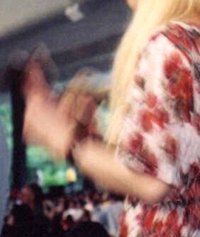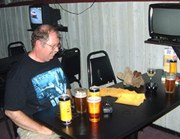 Luckily, our able in-house surgeon, Frau Doktor Boo, has fixed the problem on our return to Berlin, but it meant that, this time in the USA, Kousa had to be extra careful with her head. Well, there were obviously moments where both she and Usako could not really contain themselves, as the above picture proves. This photo of Usako & Kousa in their frantic act was captured at the Performing Arts Center in Saratoga Springs, NY, by our Canadian friend Jim Corrigan (photo left, in a bar before the concert: it was a very strange place, with a TV set at each table, all showing different programmes! We had to turn "our" set off, so that we could talk!)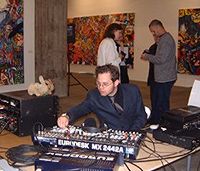 After a week in hot & humid East Coast, it was such a relief to arrive in cold, grey and rainy Iceland (sans injury, too - phew!). We spent 6 relaxing weeks in Reykjavík, recovering from the hectic US trip, sunbathing (yes, the sun did come out every now and then), hanging out with friends, working...

There were lots of concerts and events going on in Iceland, too. The photo on the right was taken at the Reykjavík Art Museum/Harbour House, where a large-scale retrospective of Erró's work was on show. One Sunday afternoon, our friend Bibbi was commissioned to provide half an hour of soundscape (or "noisescape") in the exhibition space. Usako & Kousa sat atop his gear and "supervised" the mix : - )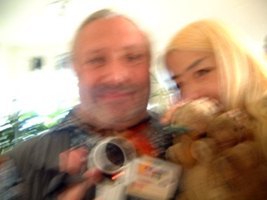 And then there was an exhibition of Charlemagne Palestine's wonderful installation - titled after the gallery's name Gangurinn (The Corridor) it's a whole gang of soft toy animals (bunnies, mostly!) fixed onto 2 small canvases, all "urinating together", with water pumped into each of them via a plastic tube from the water receptacle underneath. In the background, his etheric music, mixed with a sound recording from Berlin Zoo, is played, and this and the sound of the running water together has a very soothing effect on the viewer. Absolutely beautiful!

And here's a self portrait by/of all of us together: Charlemagne, Akiko, Usako, Kousa - and Charlemagne's Sony video camera!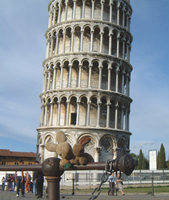 We returned to Berlin at the end of July, and after 2 weeks of catching up with things back home (and adjusting back to the hot weather), it was time to go off again, to catch the European leg of Deep Purple's tour.

We saw 4 shows in Germany, and then, after another week's rest, flew off to Italy for two more dates in Turin and Pisa. It was our first time in Italy, and we loved it! In Pisa we stayed just around the corner from the famous tower (la torre pendente), so, along with our friends Blanka & Gerrit from Germany, we even managed to squeeze in some sightseeing into our schedule.

Yes, it was lovely to see our old friends (Ronny who now runs a Japanese restaurant in Long Island, not far from Jones Beach - thanks for the sashimi dinner! - and all our Icelandic friends, eg. Bibbi, Alma, Grétar, Hilmar, Eysteinn, Ási, Gulli, Ásta, Siggi, and many more) and to meet new ones (Jim, Line, Nick, Blanka, Gerrit, Axel, Brenda, Tina, Tatti, Andi, Catrin, Kumi and her band, Sungift, and many others) during the summer, it was a great one. Many thanks to all of you, and see you very soon!