Stereo Total live
One of Wolfgang's guest spots: "Zwer, zwer,
zwer, zwer, zwer, zwer, zwer, zwer, zwer, zwer,
zwer, zwer, zwer-ge..."
Usako & Kousa with our friend Húbert Noi
(see their new hair extensions? -
sorry, the photo is a bit out of focus)
With Siguridur before the show (note his
cane, also pictured in above photo: it's made
of bull's penis, and the phallus-shaped handle
was carved by Siggi himself)
9 August: Next day, we woke up with a hangover (like everyone else, we suppose) and staggered into town in the afternoon to catch the Gay Pride march. By the time we get to the town centre, the main shopping street, Laugavegur, is completely lined with people, some of them spilling onto the road, not to mention all the cafes along the way being totally full. (The official turnout was somewhere between 20-30,000.) We were wondering where to stand, when Dúsa & Rósi saw us and invited us into their boutique, skaparinn, where we could stand in the show window, plastic cups of refreshing fruit wine punch in hand, watch the march and wave at our friends. Walther von Goethe Foundation and Stereo Total took part in the march too (see below photo), but Françoise and Brezel briefly dropped away and joined us for a drink, before rushing back to join the line again.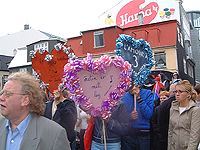 The march ended at Ingólfstorg square, where a big open-air concert followed, compered by Páll Óskar (in drag, as Miss Öskjuhlid - yes, that's the hill inhabited by many rabbits, where we saw the Dark Bunny on the Midsummer's night, which is also a famous cruising spot :-) and with a variety of Icelandic and international guests: Stereo Total among them, as well as XXX Rottweiler hundar, the hip-hop band we saw in Berlin in April and since then twice here by chance - so that's 4 times in less than 4 months!
Later on in the evening, Stereo Total played another club in town, but we were too bushed to go. (Are we getting too old???) We've heard from a reliable source that it was a very good concert, shame we've missed it. Still, there are more gigs and parties coming up this week, about which you will be reading (and seeing photos) very soon...