Highlight of the Month Februar 2001
Reproduction of the original German article from Wolfgang Müller's Walther von Goethe Foundation webpages.
Usako & Kousa were back in Reykjavík for the New Year celebration, with their sister Akiko. Here's a little report of their 1-week stay...
Reykjavík without Snow
Happy New Century to Everyone!
After spending the New Year's Eve last year with our friends in Iceland, we had to come back again this year. We arrived late on the 28th, spent the 29th doing the obligatory food & booze shopping, then got drunk that evening with Hilmar, Ragna and Eysteinn, so that we spent the most of the 30th in bed. By the time we finally emerged from bed on the 31st, it was almost time to go out again to celebrate the New Year's Eve...
One word of advice to anyone who's thinking of travelling to Iceland for the New Year's celebrations: we saw, as we did last year, several tourists wandering the streets in the early evening of the 31st, looking for action, looking for somewhere nice to go, looking for anywhere that's open, in fact! Some of them would come up to you to ask if you could recommend anywhere to go to, to which all you can answer is "well, everywhere is closed this evening, the only places open would be hotel bars..." Yes, we suppose more and more people are coming over from abroad to experience the spectacular fireworks and a wild night out on town, not realising that New Year's Eve (or at least the first half of it) is celebrated mostly at home with friends and families. All the shops, including the supermarkets that are normally open till late, and the state alcohol stores, close by 2PM on the New Year's Eve, and then all the restaurants and bars start closing towards the late afternoon. By early evening the main streets of Reykjavík are deserted, except for those tourists wandering around like lost souls. Many bars will re-open after midnight, but until then, as we said, only the hotels cater for those without any private parties to go to.
Oh, and this year, as we arrived in town, something felt strange, but we didn't know what it was, until our taxi driver said it: "you've noticed we have no snow this year?" Apparently it had snowed a little just before Christmas, but otherwise not at all this winter. Instead, it was extremely cold - we experienced temperatures of -10C or lower during our stay, which is very unusual, at least in this part of Iceland.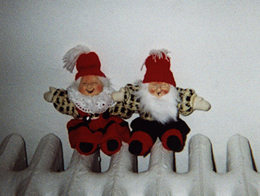 Two dolls found on the radiator at Alma's flat. They are Gryla and Leppaludi, the mother and father of the 13 Christmas men. (Yes, in Iceland they have not just one Santa Claus but 13 Christmas men visiting you on consecutive days from 24 December, not to bring you presents but to cause trouble in various forms!)
Anyway, we got together at Alma's place, for a small dinner party with our trusted friends, Bibbi, Alma, Gretár, Irís, Einar & Co. We had delicious titbits (a lot of vegetarian stuff, as well as sushi, which is becoming trendy in Iceland now), talked and listened to music.
At 10:30PM there is a TV programme which everyone (and we mean absolutely everyone) in Iceland watches: "Áramótaskaupid(New Year with Fun)", a satiric look at the events of the past year. This year, the parody of the film "Dancer In The Dark" (namely of the scene on the railway bridge - reproduced on a small coutry road, as there is no railway in Iceland!) was absolutely hilarious! The programme ends at 11:30PM, and then it's time to get ready for the fireworks at midnight.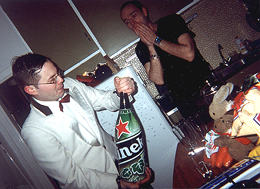 Usako & Kousa looking in anticipation at Bibbi opening a magnum bottle of Heineken(!), while Gretár watches in horror...
We walked, bottles of Champage in hand, a few blocks up the hill to the Hallgrímskirkja, the church overlooking the entire town, which is the beloved spot for fireworks, where we toasted the last New Year. We got there a few minutes before midnight. It had started to snow - at last - while we were indoors, so the atmosphere was right again. The area around the church was as crowded as it was last year, but this year there seemed even more fireworks were being set off. We had found ourselves a spot to stand and watch, and then, realising that someone was about to set a huge block of fireworks off right next to us, fled to the other side of the street, only to find another huge block going off and fleeing again! The sky, absolutely filled with fireworks of various colours, looked amazing. And the noise, and the intense smell of the fireworks...!
By 15 minutes past midnight it was all over (well, not all over, but it had quietened down a lot), so we walked back to Alma's, where more friends turned up, and we continued partying until the early hours. All over town the celebrations always go on until the next morning, but we went home to bed fairly early, at around 5AM. On our way home, the streets were busy again with young people walking from one party to another...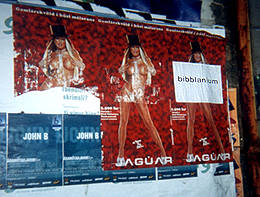 Last year, Bibbi spent the afternoon on New Year's Eve putting up this anonymous poster (not the one with the girl but the small, white one on top of it!), promoting the arrival of the new Bibblanium, all over town, in the middle of stormy, snow weather. This year he pasted the remaining posters all around town, just to remind people of the Bibblanium...
Of course it means no one gets up on the New Year's Day, and we stayed in bed all day as well. On the 2nd of January, Akiko went swimming in one of the outdoor swimming pools. All pools in Iceland are filled with warm spring water, and it's refreshing to swim in them, especially when it's very cold outside. It was an extremely cold and windy day, which made it all the more fun. On the 3rd, everything was back to normal, ie. everyone was back at work and all the shops were open again. We left the following day, thinking we'd have to stay longer next year...
love,
Usako&Kousa + Akiko Hada
Usako & Kousa's New Year Report 2000 in English / in Japanese