You can click on any of the images to view it at a larger size
(300 pixels wide, about 10-16K each).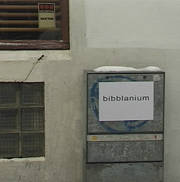 At the end of December 1999, we flew over to Reykjavík, to avoid the Millenium madness in Berlin and elsewhere in Europe (or the world, for that matter). It proved to be the absolute right move, for our trusted friend Bibbi has come up with an alternative, bunny-friendly word for this year's New Year's celebration - BIBBLANIUM (which starts with a "B", of course)!!
On the 31 December, Bibbi spent several hours in the afternoon putting this poster all over town, announcing the imminent arrival of the new Bibblanium to everyone in Reykjavík. In the evening, Usako, Kousa and Akiko were invited to his house for a dinner with two other friends, Alma and Grétar.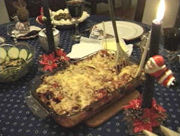 We feasted on a cheese & vegetable dish named Bibblanium Bake, which Alma cooked. (Bibbi did the shopping; Akiko & Gréar peeled the vegs, cleared away and did other bits & pieces; Usako & Kousa just sat on the kitchen table and watched us get the dinner ready.)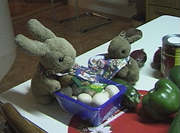 Later we joined other friends for drinks & TV (there's an annual programme which everyone in Iceland watches on New Year's Eve, though we can't even remember what it's called) and shortly before midnight, off we go, onto the streets, with fireworks and bottles of champagne in our hands...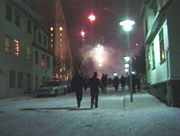 The snow-covered streets were full of people (well, by the local standards, that is), all heading towards Hallgrímskirkja, the church on top of the hill in the middle of town. We reached there a few minutes before 0:00, and started setting the fireworks off. And at midnight, we popped the champagne bottle and toasted the Bibblanium. Grétar had the brains earlier to put the strawberries (which Bibbi had bought for the dinner) aside and to bring them out with us, so we could enjoy the luxury of eating Kousa's favourite fruit with champagne, out on the street, in the middle of snow and fireworks - Heaven!!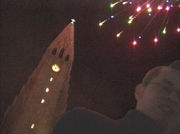 The fireworks and drinks went on for 15-20 minutes, before people started leaving, to go on to other parties. Unfortunately, Akiko's SONY camera had decided in the mean time that it didn't like the Icelandic weather and stopped functioning altogether. We therefore have very few decent pictures of the celebration, but here is one of Bibbi - with fire in the sky behind him (and the Hallgrímskirkja).
We walked down the road to the Living Art Museum, where a party had just begun. We met some more friends there, had more to drink with them, and had a nice time. Bibbi was also supposed to be making an apperance later on in the evening (or the morning??), but we were finished by 4AM and had to leave before he went onstage. As we told him we had to go, he came up with the first great line of the Bibblanium: "oh, Akiko, Usako, Kousa, stay for a bit longer - it's better to pass out than to drop out!!" Still, our eyelids were almost closed, and we also go off to find a telephone to ring our father in Japan and say Happy New Year, so we left.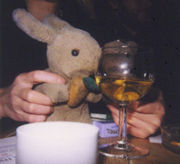 The next day we slept through, and we took it easy for a couple of days after that, too. Then we went to see the latest Schwarzenegger movie with our friend Hilmar. And the same evening, we went to see a concert: Product 8 (that's ex-Reptilicus Jóhann Eiríksson's solo project), Vind Va Mei with 2 members of Stilluppsteypa (namely Siggy and Helgi) playing as a unit, and Curver (that's the name Bibbi uses for his solo music projects).
Afterwards Siggy and his girlfriend Anne took the polaroid photo of Usako & Kousa (getting drunk as usual) shown here and gave it to us - many thanks!
And then, we met Chris Holmes, who was visiting Reykjavík from his home town Chicago for a couple of weeks, and he immediately told us about his pop group Yum Yum, who all dress up in bunny costumes when they play live!! You can see some images of the group by visiting Chris' homepage and clicking on the thumbnails (the second and the fourth from the left being the ones with bunny costumes) on the front page.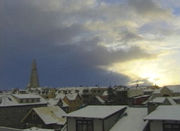 And so on and on... We had a lovely 2-week stay in Iceland, thanks partly to all our friends who looked after us, and partly to the snow and the magical air of the place. We're looking forward to returning again this summer.
(And here's a pic out of our window one January afternoon - the tall building on the left is the same Hallgrímskirkja that's in the photo of the street & one of Bibbi.)
(Check out the photo of Bibbi with Usako & Kousa in the October '99 entry!)