---


December: Usako & Kousa are on TV again before the end of the year - though very, very briefly, for about 1 second to be precise! (Akiko, on the other hand, makes much longer appearances.)

The programme is a video essay (by our friends at dogfilm again) called

workstation , and will be broadcast on 3sat on Monday, 27 December at 19:00CET. You can catch 3sat outside of Germany via satellite, but please note that the programme is all in German, with lots of interview segments, etc. - so it probably won't make much sense to you if you don't understand the language.

This is probably the last news item in the Year of the Bunny. We're off to Iceland in a few days, where we are hoping to see lots of snow and get drunk with all our good friends (except for Gummi & Ásta, who are going to England instead for some peculiar reason...)

See the rest of you in the New Year (of Non-Bunny)!!

PS. We now have a new page of our friends' reports on screenings of the film killer.berlin.doc:
in English (6K) and in Japanese (5K).



---


November 30: Back from our third trip to Japan this year. We are accumulating so many bunny objects from over there, that we'll have to make yet another separate page...soon.




---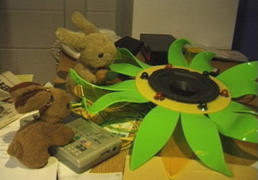 Mid October: We went to Dundee, Scotland, where Akiko did a bit of teaching and Usako & Kousa was filmed by our friend Lei Cox for inclusion in his new installation piece (in progress). We will be reporting about the completion of the piece and its exhibition dates, when Lei tells us...

In the mean time, here's a shot of Usako & Kousa with one of Lei's sunflowers, which is part of his earlier installation piece.

(PS. We all really enjoyed our stay in Dundee - thanks to Lei & Mel!!)




---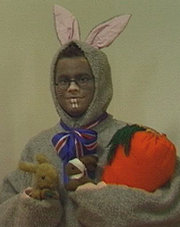 October 9: It was nice to see our friend Bibbi from Reykjavík, who came over to Berlin to make an appearannce (as a bunny) at the "Iceland Show" at the Podewil, presented by Wolfgang Müller and Ásta Ólafsdóttir.

On the left is a pic of Usako & Kousa with him, taken during the intermission. Bibbi had hundreds of candies - with blue/red/white Icelandic national flag design - in his carrot, in case you're wondering what's inside it, and he distributed them to the audience.

It was a very nice evening, ending with large amounts of alcohol consumed by all in the Podewil bar/restaurant afterwards. As a result, Kousa's bandages had big, brown stains from all the drink, and that's when Akiko told her it was about time she took them off...




---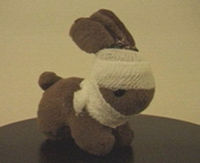 Late September: Shock!! Horror!!!
We flew to London to see Deep Purple play with the London Philharmonic Orchestra at the Royal Albert Hall, and at the gig we bought a live CD, which we played and head-banged daily to on our return home. After about 5 days, Kousa's head suddenly split open, right in the middle of "Smoke on the Water"!!!!!

Luckily we have a very able surgeon in the family, namely Kousa & Usako's mother, Boo, who stiched the head back on tightly - tighter than it had been for a long time (and now we know that it had been gradually coming loose from too much head-banging!)
Kousa did wear bandages around her head for a while, just to make sure she didn't damage the wounds. And, yes, Usako did look after her poor, sick sister very well.
---


September 14: Usako & Kousa spent June & July in Japan, then the rest of the summer back home in Berlin. They are a bit annoyed that their sister Akiko has been very unproductive and not updated these pages for months now...



---


March 13: The broadcast of "killer.berlin.doc" on ZDF has been set for 26 April - Kousa's birthday!! If you are already on our mailing list, we will be mailing you to remind you nearer the time. Please note that ZDF can be received in many European countries outside of Germany, either by satellite, via cable or terrestrially.

Read the details about the film in English or in Japanese (both 13K).



---


February 16: You can now see some images from the premiere of "killer.berlin.doc" here (46K).

It's also the Chinese New Year (of the Bunny, of course) today, we believe...



---


February 1: The TV project that Usako & Kousa worked on last year has now been completed. It's called "killer.berlin.doc" and is going to be premiered at the Berlin International Film Festival this month, before its broadcast on ZDF later in the year. We now have the full information about the film, as well as screening dates, still images and relevant links, which you can view here (12K).



---


New Year: Hurrrah! It's the Year of the Bunny!

Usako & Kousa have returned from Japan just in time for the New Year, bringing back lots of goodies with bunny design for the season. You can have a look at some of them here (44K).

And in case you haven't received the New Year's Greetings from Usako & Kousa by e-mail, you can view it here (26K).