USAKO & KOUSA'S NEWS UPDATES 2004-2006
Updated: 2 October, 2006



If you would like to be included in our mailing list and receive news about the
latest updates, please mail us at akiko@bunnies.de.


---

2 October 2006:

Our travelogue from the Shetland Islands is finally here - read about all the wildlife and the fascinating landscapes (and all the delicious seafood & booze we've had)!!
---

18 August, 2006: Another long pause (sorry!)

We didn't make it to Iceland this summer and stayed in very hot Berlin all the time. However, we're going to visit the Shetland Islands for a few days in September - come back and check out the photos then!

In the mean time, Usako & Kousa have had a very nice evening this week with their friend Herbert - talk about good service! - and you can see the photos here.
---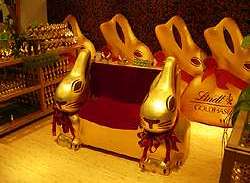 14 April, 2006: Happy Easter, everyone! Akiko's spotted this Lindt Gold Easter Bunny chair at KaDeWe department store in Berlin. Click here to view some more image.
---


14 April, 2006: A book tip for fans of European cinema: a new book by Rosalind Galt, entitled New European Cinema: Redrawing the Map has been published by the Columbia University Press in Ohio. It includes 4 pages about killer.berlin.doc, including a still photo of Akiko & Kousa's harakiri ceremony from the film. The book offers an up-to-date and interesting insight into cultural, historical and geographical backgrounds to the European cinema in the post-Wall era, and can be ordered from your local amazon. For details, click on the links below:



amazon.com / amazon.co.uk / amazon.de / amazon.fr / amazon.co.jp




---

28 February, 2006: A little update at last! Here are a few photos from an evening out in Berlin.


---


23 October, 2005: We are currently visiting Japan. Read about our Day out in Kyoto. Hopefully more photos coming up soon...


---

13 August, 2005: OH NO!!!
It's been another 13 months since we've updated these pages.
Many, many apologies to all our friends...
Well, as you might have guessed, we're enjoying another beautiful summer in Iceland. You can see the photos of Usako & Kousa's adventures here.

We've also made some quick trips to Canada and London from here in the mean time - our photo reports to follow very soon, when Akiko gets the files sorted...


---

12 July, 2004: We have some more photos from Iceland now - click here for the index .


---

2 July, 2004: 1000 apologies yet again for the long gap since the last updates! We are now back in Iceland for the summer, and are finally beginning to upload some photos, including our travel report from West Fjords earlier this week. Click here for the index of our summer reports. .

We are also hoping to upload photos and other material from the last half year over the next couple of weeks, so stay tuned in...
Read Usako & Kousa's older News Updates
Back to Bunnies' Bildergalerie