---


December 1998 - JUST IN!: Stadtspione will be screened at the Berlin Film Festival in February! Actually, "Stadtspione" is still a working title, and the final title and the screening dates are still to be confirmed. Check this page in late January for more details...


---


November 1998: After Reykjavík, Usako & Kousa went to California for a few days at the end of August. And now they're off to Japan for 7 weeks. We'll work on updates & new pages for this site when we come back in late December.


---


Summer 98: As now is custom for them, Usako & Kousa spent 6 weeks of their summer in Reykjavík. They had a nice apartment near the sea, where they could see beautiful skies and ships sailing off to the Atlantic. They enjoyed having occasional walks around town and along and getting drunk with friends.

(Big thanks to Eysteinn Björnsson and Jóhann Eiríksson for the PC/Internet facilities as well as their technical assistance; and to Gudrún Björk Reynisdóttir and Sigurdur Már Jóhanesson for providing a PC at home while we were there!)




Here's the image of Usako & Kousa in Iceland that we've sent some of you by e-mail,
including an educational text about Jónsmessa (summer solstice). (10K)
---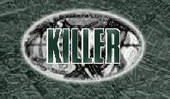 In May Usako & Kousa have (again, with their sister) completed the first production phase of a TV project under the working title STADTSPIONE (City Spies), produced by dogfilm for ZDF's Das kleine Fernsehspiel. It's based on a game called "Killer", in which each of the 10 participants was given a target to follow, observe and assasinate. We also had to watch out so as not to be assasinated ourselves, by a killer whose identity was unknown to us. Usako, Kousa & Akiko worked under the codename "Eiserner Klaus" (Iron Klaus), after the hero of the very popular Japanese comic series From Eroica With Love by Yasuko Aoike. We successfully assasinated our first target by means of a letter-bomb, and while waiting for our second letter-bomb - delivered to our second victim - to detonate, we were attacked ourselves: Usako was abducted from a cafe in Kreuzberg under the broad daylight! The kidnappers, who'd run off with her on a moped waiting outside the cafe, demanded that Kousa and Akiko commit harakiri if we wanted Usako back. Otherwise a certain Mr. Braun, the "most violent fox in town" who was holding Usako captive, would abuse her. We had no choice but to follow their instructions, and thus we, too, became ghosts ...

On our return to Berlin in late July we will be doing a few days' reconstruction shoot, which will include a scene where all three of us will be dressed up as fairies!!! Iceland, of course, is the best place for preparing and rehearsing for roles like that.

The programme is due to be completed by the end of the year and broadcast in the first quarter of 1999. Watch out this space for further news on the project - and perhaps some of the production stills!





Information (in German only) on From Eroica With Love and Yasuko Aoike,
on the author's website in Japan

And for our Japanese viewers, here's a link to the front page of the Eroica website
---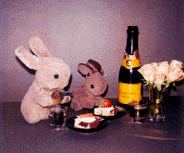 In late April, Usako & Kousa celebrated their birthdays. Usako became 13 on April 24 (the same birthday as her other sister, Akiko) and Kousa turned 11 on April 26. Usako's moon sign is Cancer and Kousa's is Aries.

More biographical information on Usako, Kousa and their family are coming soon!
(And - yes, the image that used to be on the front page was a birthday photo from a few years ago.)






---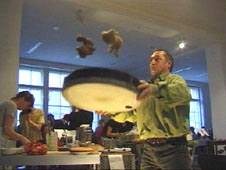 April 16: Usako & Kousa took part in Fast Forward's "Feeding Frenzy", a concert involving 7 musicians, 5 cooks and 2 bunnies, at the Hamburger Bahnhof in Berlin. They enjoyed performing with Fast (see pic), combining their musical and athletic skills to produce some loud, thumping noises.

Click here to view some more images from the concert (32K)
You can also visit Fast Forward's website from our links page.
---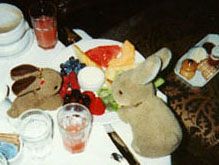 In January, Usako & Kousa flew to Los Angeles to hang out in Hollywood for a couple of days. They loved all those huge take-away salads from the equally gigantic health food store, and the big fruit platter on the hotel breakfast menu (see pic).

They also had a good time at Billboard Live, where they went to see a Marc Bonilla concert featuring our beloved Keith E. (40K)