Summer in Iceland 2004: 6 June - 29 August


We are back in Iceland for the summer.
And here are some of our photos & travel reports so far, with more coming up soon.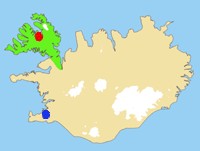 National Day celebrations in Reykjavík, 17 June

West Fjords 27-29 June:
Usako & Kousa's first trip out of town!
PS. It was very sunny and warm in North West - it was only
after the trip that our friends in Reykjavík told us that Isafördur
is also known here as Ibizafördur ;-)

More photos from Reykjavík (updated: 12 July)

As we seem to be taking endless photos of the sky,
esp.the amazing clouds and beautiful evening colours,
we have decided to put them on a seperate page here
(updated: 12 July)




Back to the Bunnies' News Page / Back to Bunnies Bildergalerie