Yes, we've chosen a cool background colour, thinking of our friends down south - especially Berlin - who keep us informed of just how hot it is this summer. Poor things... (does anyone know the appropriate emoticon for schadenfreude?! ;-)
And yes, as usual, click on the image to view a larger version - they are around 40-55K each.
Sunday, 29 June: Having briefly returned to Berlin after the Deep Purple UK tour, we're off again - flying to Düsseldorf, and from there onto Keflavík, arriving late at night. Hmm - lovely fresh air. It's such a big relief after the hot couple of days back home.
Tuesday, 1 July: With Hilmar and Chris (our friend from Germany), we go for a lunch at the cafe in Perlan, on top of the Öskjuhlíd hill. A nice salad buffet. We then go out on the balcony, which boasts a 360 degree view over the whole town. Whenever Usako & Kousa go out, the sun *always* come out, and today is no exception - the clear and wide view is simply stunning under the clear sunlight. Then we look in the Saga Museum on the ground floor, for a quick lesson in the history of Iceland.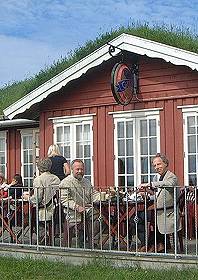 Hilmar has recently been ordained the leader of the Ásatrú Association - the old pagan Norse religion, which is a very important cultural tradition that still thrives here - and Chris had flown in to attend the ceremony in Thingvellir, the old site of Althing, the world's oldest parliament, dating back to the 10th century. During the lunch he tells us that they are planning to build a temple in Reykjavík and are in negotiation with the municipal departments regarding its location, at the bottom of this hill.
So, after lunch and some education, we drive downhill to the artificial beach at Nauthóksvík, and on the way, Hilmar points to us where the planned site for the temple is. The strangest thing is - well, did you read our 2002 Icelandic Diary? We were down here on the midsummer's night last year, and we found a wild rabbit, which we photographed and brought online. And the spot that Hilmar pointed to was, as far as we could make out, more or less exactly where we saw this dark rabbit! How funny is that?!
After a quick look at the "beach", we had a coffee (well, Usako & Kousa had white wine) at the nearby cafe, where this picture was taken. You can see how strong the sunshine was, everyone is squinting except for the bunnies. And isn't the turf on the roof of the cafe a nice touch? Yes, it's real.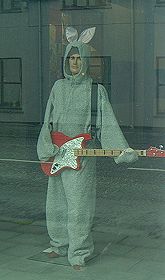 Tuesday, 8 July: Smekkleysa (aka Bad Taste) have been celebrating their 16 years of activities in the areas of music, literature, merchandising, etc. etc., with an exhibition in London and Reykjavík. We went to see it today at the Harbour House, part of the Reykjavík Arts Museum. As you approach the museum, you can see a couple of manequinns in the window. One has the "T-shirt with the traditional Icelandic wool jumper design" on, which Bad Taste produced in the 90's, and which won the 11th place in the national competition for the "traditional" national costume for men. (No, there wasn't any until then, only the traditional national costume for women!) And the other one is dressed up in Bibbi's bunny costume!! (Yes, it's the real thing.) One question we have to the organisers of this exhibition: did you *deliberately* choose such an ugly manequinn for this? It just looks so different from when we saw Bibbi wearing it...
If you haven't seen Bibbi wearing it, then check out our 1999 News Page for his last performance in Berlin in this costume...
The exhibition was an interesting mixture of photo & video documentations of the label's activities, along with such "genuine" articles from the time as Bibbi's bunny costume, we enjoyed it very much. And there will be some related events coming up at the museum in the next month, which we will be reporting back on...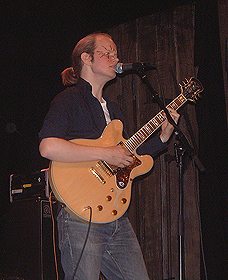 Saturday, 2 August: It's the annual Bank Holiday weekend! Apparently many people go away to the countryside - yes, it's probably the last chance to enjoy the long daylight hours - we wouldn't say "endless daylight hours", because here in town we already have a few hours of darkness at night, and the days will only get shorter and shorter now... Besides, there will be far too much going on in town the next couple of weekends for anyone to be wanting to go away :-)
That is not to say that Reykjavík turns into a ghost town during the weekend, and yes, there are some entertainment for people who decide to stay in town. Tonight, a festival called Innipúkinn is on, from 5pm until late into the night, featuring several bands/artists, including Egill (left), each playing 30- to 45-minute sets, and 3 DJ's taking turns spinning the tables between the bands. The venue, Idnó** is a Class-A historical theatre right on the lake in the town centre, restored in the 90's to its original state. So, you go in to watch the bands, go out and hang out on the lakefront, enjoying the sunshine and talking to your friends (or: later at night, there is no sunshine any more, but everyone's had a couple of drinks by then and they are chatty, so you can have fun talking to strangers. Yes, Icelanders are very friendly when they've had a drink or two, and you can very easily strike a conversation with them :-)
** Please excuse us for not using special Icelandic fonts on our webpages, because we know that not every one of our readers has the necessary fonts installed in their system. We ourselves have only been able to display those Icelandic characters since we bought our new iBook, with OS9.2.2 - and please don't bother telling us that it's all in there in OS X, we know that!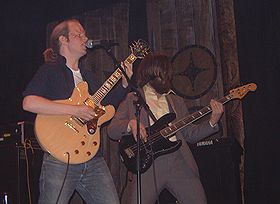 Anyway, back to the show... We didn't stay there all the time, so we only got to see about the half of the whole evening's line-up. Egill and DJ Bibbi were our main reason to go and check out this event. (And thanks to Bibbi, who reserved a ticket for us - it's a small theatre and the tickets were completely sold out.) It was a nice surprise when, just before Egill's set, we found out that another friend of ours, Maggi was accompanying him on bass - alas, Maggi (and the organ player, whose name we didn't catch) only came on for one song, and then quickly disappeared again! For the rest, Egill sang several songs from his upcoming album, alone, using backing tape, sometimes with live guitar, sometimes playing air guitar, and other times "only" singing ;-) They sounded great, we're looking forward to the new album!
Usako & Kousa liked the second band on the evening, Innvortis, a mixed group of mohican & totally shaved heads, who played very fast and loud guitar rock (à la Ramones). We had never heard of Rúnk, who came on after Egill, but they were a big highlight of the whole evening. Musically they are nothing new - a good, "let's all party" kind of power pop, with a pretty (and pretty wild) girl singer who sounds like Claire Grogan who can't sing, plus very cheezy synth-pop lines played not on any synth but on cheap Yamaha. But in terms of getting the crowd going - phew! - they obviously have the right chemistry. The whole venue is dancing like mad. Yes, Usako & Kousa did their bit of dancing too :-)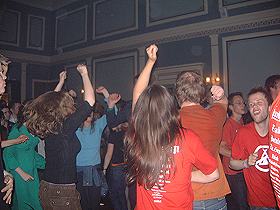 Then Dr. Gunni comes on to play some good, solid, guitar-based alternative rock, some of which are so intense with fast rhythms and screaming vocals to verge on punk/hardcore (he *can* sing, if we may add ;-) The front section of the auditorium goes wild here too - though not so much en masse as during the last act. So here's a photo of "having a good time at a rock concert à la icelandaise (we've just made up that word)."
Quite a lot of events coming up in the next couple of weeks, so keep checking these pages...