We flew from Berlin to Trondheim via Oslo on 3 October, 2000. The small village, about a kilometer down the road from the Trondheim Airport, is called Hell, and that's where we stayed.

We spent the most of our first evening getting drunk in the hotel bar, overlooking the beautiful sunset against a fjord landscape (well, at least for the first half an hour or so; after that, we forgot about the landscape.)

The next day, we survived our massive hangovers and went to see Deep Purple Live in Hell (with the Rumanian George Enescu Orchestra + Special Guests) in the evening, , and that was wild! The venue, Hell Blues, was in fact a huge aircraft hanger at the airport, and it was completely filled with people... amazing. Usako & Kousa did a lot of head-banging again, but we're glad to tell you that there has been no serious head injury this time around... (See the news item from September 1999 if you don't remember what happened last time.)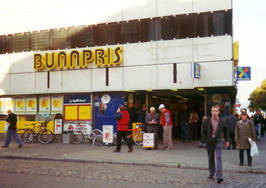 After a quick walk to the Hell Station next morning, where we took the above photo, we went into the town of Trondheim, where we were staying with our friends Jez, Jackie, Alice and Laurie for another couple of days.
Trondheim is a nice town. Nice to walk around, people are friendly. We especially liked this chain of supermarket: BUNNPRIS. We went past several branches, and went into this particular one (left) to do some shopping. (Apparently "BUNNPRIS" means "Bottom Price", by the way.)
That night, we saw some beautiful (and very strong) northern lights move from one corner of the sky to another. What a shame that we couldn't take a picture!
On Friday night, we all had another boozy, fun night out in town. Ivar Smedstadt helped us obtain these two very special pieces of souvenir to take home with us: ARCTIC BEER glasses (1 liter & 0.5 liter sizes, below), which go nicely with Akiko's old POLAR BEER T-shirt from Iceland. (Usako & Kousa were a bit pissed off that the glasses were empty when they modelled for this photo... oh well.)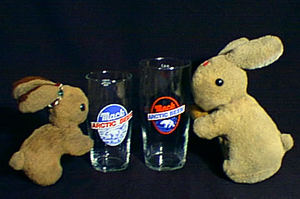 We flew back to Germany the next day, in time for more head-banging at the Deep Purple gig in Berlin...
Many thanks to all our friends in Trondheim, hopefully we'll be seeing you again soon!







Back to News Updates