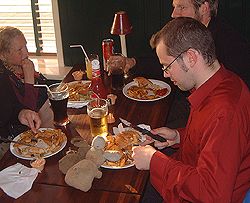 Friday, 15 August: 7PM, Vitarbar in downtown area, for another gig of Bibbi's Hamburger Tour. This time a few friends join him for the meal. 6 days into the tour, is he fed up with eating nothing but hamburgers by now? Yes, he is, and he's had indigestion a couple of days ago, but he's just about managing. What does he eat for breakfast? He doesn't eat breakfast, nor does he have any snacks during the day or at night, so he really is living on hamburgers and fries. Does he vary his orders? Yes, he sometimes goes for a cheeseburger, and in some burger joints he may get an extra piece of cucumber or a lettuce leaf, but other than that, he sticks to the basic, ie. no chicken burger or such variations. And how has the public reaction been? Has he been attracting a big crowd? He says people come and eat in the restaurant and watch him, but they don't always come and talk to him, so he doesn't know how many of them are "his" audience. He does get recognised as the hamburger guy in public though, and gets told "I came to see you last night" etc. Some of the restaurant owners had also heard about the tour, and that he'd be coming to their places - one gave him an extra candy bar (which he was too full to eat and gave to his mother), another told him the burger was on the house, but he insisted on paying for it, as eating for free would change the concept of the performance.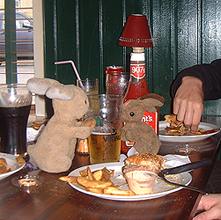 So tonight it's the Iceland classic (so we are told) - with blue cheese dressing. Instead of regular fries, Bibbi orders chunky potato wedges, which he sprinkles with paprika powder. Usako & Kousa are invited to nibble on a couple of those, but they soon decide they are more interested in the Viking beer that Bibbi's drinking.
In the restaurant they have the radio on, and when Bibbi's dish arrives, Highway Star is being played in the background :-) He tells us that at another venue a couple of nights ago, they had old rock concert posters on the wall, and so he ate his hamburger against the backdrop of a big Deep Purple poster. We've obviously missed a good photo opportunity...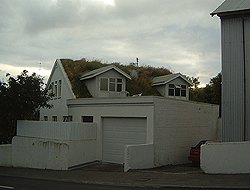 Now, do you remember the nice little cafe by the artificial beach in Part One of our Iceland Diary this year? The one with real green turf on its roof? At the dinner party at Alma & Egill's last week, we suddenly realised the house next door to theirs had a roof like that - albeit not a very well kept one, with totally overgrown and not very green grass - right in the middle of town. Alma told us that because their street is on the route from the coach station to the town centre, many tourists walk past the house, and they see quite a lot of them stopping to take a photo. So tonight, on our way home from the hamburger gig, we took this photo too. (See they have a few chairs out in the little "garden" above the garage. Must be a nice sunbathing spot, if you like sunbathing.)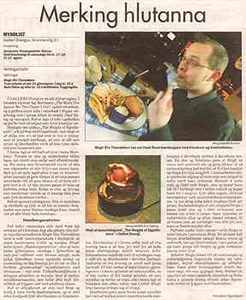 Click on the image
to see the photo in detail
Saturday, 16 August: Today it's time for the annual Menningarnótt (Culture Night) again, when museums, galleries, shops, bars, theatres, etc. etc. all stay open until late at night, and there are literally hundreds of events (we heard 800 this year, according to one source) taking place all day and all evening, and the town centre gets absolutely packed with people - they are expecting a turnout of 100,000 this year, we've read.
And today's Morgunbladid newspaper has a pull-out guide to some of the highlights of the day, including a big article about the Hamburger Tour (which ends today), and a photo from the Hard Rock Cafe - with Usako & Kousa (left).
We will be reporting on the Culture Night events later - we have 7 concerts & events on our list for tonight, all taking place between 6 and 11pm! Let's see how many we'll actually manage...