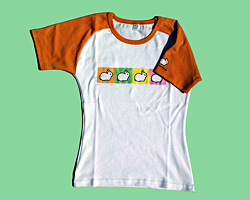 The T-shirt


Bunny motiv printed on the front...


...and another bunny on the left arm.
The
www.bunnies.de
T-shirt
...available at last!
(And there are still a few left.)



Further to earlier report of our Bunny T-shirt, commissioned by the Deutsche Guggenheim Berlin and designed by Akiko Hada in 2000, going missing somewhere between Portugal and Berlin, another 150 T-shirts have been produced - and they're now on sale!
The T-shirt comes in 4 sizes and costs 35DM each.
If you live outside of the EU, you can order the T-shirt from our Shopping Page (in English, in Deutsch or Japanese), along with other Bunny multiples by Akiko.
Alternatively, you can buy it at the Museum Shop of the Deutsche Guggenheim Berlin, Unter den Linden 13-15, 10117 Berlin-Mitte, or through their online shop at www.deutsche-guggenheim-berlin.de (English pages here / Deutsche Seiten hier) - see under "Specials".
Back to the Shopping Page
in English / in Deutsch
Back to Akiko's index in English / in Deutsch