It was towards the end of 1980 that a compilation cassette titled FROM BRUSSELS WITH LOVE landed in London. Packaged in a clear PVC cover, together with a 7-inch single sized booklet, the cassette immediately became the talk of the town, and without any help from the music press or advertising, it sold out in all the shops. Rough Trade, the UK wholesaler, sold all their stock within a week! In early 1981, several singles were released by the same label and caught everyone's attention in the UK, where, despite the emergence of new bands in the wake of Joy Division, the music scene felt a little sluggish. All the artists on the cassette and the singles were indeed British, and yet the latest talents were being released in Belgium of all places and exported back into the UK! Thus the music fans as well as the press started watching this label with vexation and expectation...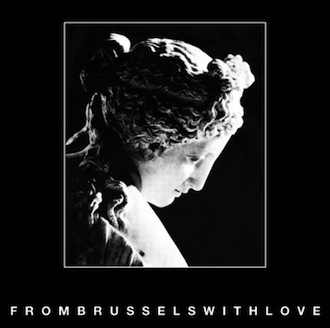 The label, Les Disques du Crépusucule, was founded in Brussels in June 1980. I'm with one of its co-founders, Annik Honoré, in her hotel room, while she's visiting London. I met her when she was based in London and writing for the Belgian press. (In fact, my original interest in the UK music scene at the time - 1979 - and my starting to write about it, were all results of being stimulated by her.) While working as music journalists, Annik and her friend Michel Duval were also promoting concerts at a venue called Plan K in Brussels. "We always wanted to start a record label, because we were a bit bored just promoting concerts, we were bored writing for papers. So we decided it was more active to put out records than just writing about artists. That's how it came about." And the label is run by just two of them, "we decide everything and we look after everything", except for the design side: here they are helped by their mutual friend Jean-François Octave (JFO), as well as Claude Stassart, Charles van Hoorick and Benoît Hennebert. They also produce videos under the name Les Images du Crépuscule, which is overseen by Katy Kolosy.

In fact it's not just the Crépuscule label that Annik and Michel are running. Factory Benelux was founded at the same time as Crépuscule, and it's run by exactly the same people. As its name suggests, it's the Belgian branch of Factory Records, and they choose and release records by Factory artists such as A Certain Ratio and Durutti Column. Both Annik and Michel liked many of the Factory artists, whom they got to know while promoting concerts at Plan K. "It all came so naturally. I knew Factory for a long time and got on well with the people, and I liked all their bands. It was the same for Michel. Both of us were promoting concerts at Plan K, and we got in touch with Factory, with A Certain Ratio and everyone. We thought it would be a good idea to put out records ourselves, we could do a single together... Instead of just doing a single, we said, 'well, let's start Factory Benelux'."

"That was one thing, that was Factory Benelux, but obviously we liked other groups and we wanted to start a label of our own, so we started Crépuscule at the same time." Hence two labels were born simultaneously. What Annik emphasises here is that the two labels are separate entities, independent of each other. "I don't think people know that Factory Benelux and Crépuscule are run by the same people. It doesn't matter that they don't know. They are two seperate things - Factory Benelux deal with Factory artists, Crépuscule is something we look for, we have to look for what we want to do."

To start with, it was "easier to do something with Factory because they had a tape to give us", so they put out A Certain Ratio's Shack Up as their first release, and it became an immediate success. Working on Factory Benelux projects is easier for them, as they get finished recordings from Factory Records in Manchester, while they have to go out of their way to find what they like for Crépuscule releases. Their eye for interesting acts is proved by the success of their releases. There are almost always a few Crépuscule singles in the UK alternative charts, and it was the same with the aforementioned A Certain Ratio's single Shack UP and other Factory Benelux releases that followed. One week, in the Sounds' import chart, 7 out of 10 records were from these two labels.

Such a big success was a nice surprise for Annik and Michel, who had been feeling it was about time something happened in Belgium. "Here [in UK] you get hundreds and hundreds of independent labels, but not in Belgium. There's only one... or two, actually, and it's only with Belgian groups and they only put out three records a year because there's nothing interesting, there's not enough money, it's too much work... so they were not active enough. Everybody thought it was impossible to do anything in Belgium, but it's not. I mean, if you want to do something, it shouldn't be that difficult." It sounds like the situation in Belgium was very similar to that of Japan. At least Belgium is close to Britain, so they had more chance to see visiting UK groups - especially new ones. But the domestic bands are nothing to write home about. The only internationally known Belgian artist is Plastic Bertrand, a fictional star, like a Japanese pop idol. If you look at the magazines, they are filled with big name bands, the sort that also sell in Japan. And yet, Annik says, even under those circumstances, you can do your own thing if you really want to. "Well, it's a lot of work, but it's not that difficult when you want to do something, you've just got to look out for what you want to put out, and try and have a good sleeve and things like that. But it might be a bit more difficult in Belgium beause it's not as well organised as here. Like there are only three or four pressing plants, and usually they're really bad. They don't understand what you want, they don't understand that you want a good label, that you want good vinyl, the pressings are really bad. Same for the sleeves, they never give you the colour you want, so it takes a lot of argument before we get what we asked for, and even then we don't get what we really want."

FROM BURSSELS WITH LOVE was released after such problems (with the printing firm, etc.) As reviewed in detail in the previous issue, the cassette is a wonderful compilation of many of not-to-be-missed artists right now. A whole variety of genres are included here, not just music but poetry, talking, interview, and it comes with a 14-page booklet with photos, drawings, texts and liner notes in 5 languages.

"Do you know Sordide Sentimental? Well, not that we try to copy them, but we think they have a very good idea of doing two things at the same time. I mean, putting out a record but you can have drawings and text and whatever you want with it. It doesn't have to be just a single and a sleeve."

This booklet is a very mysterious object, filled with curious images and (for me) incomprehensible languages. And I find myself being attracted to this mystery - to being face to face with it, to feeling as if being left all alone in an unknown landscape, to the slight but undeniable memory inside my head of being here before. Annik tells me that their friend and designer Jean-François Octave designed the whole thing. "We were friends with each other, me, Michel and Jean-François, we know each other very well. We explained to him what we wanted, and he understood exactly."

What are those 4 drawings at the beginning of the booklet, with texts underneath? I'd like to know, as I don't read French.

"There isn't a big concept, really. There are four main drawsings, and if you have a close look at them, they're all situations in an isolated place, like a woman in a convent, and a man in a dessert. All isolated things, isolated and on their own." One of the drawings is of Jean-François' own room: a small table, two armchairs. Through the glass door behind them, a landscape of a hill, some houses, and the mountain beyond. The other three drawings except this one has texts underneath them.

"It doesn't matter if people don't understand them, although they're beautiful texts. That's another thing, we want to be cosmopolitan. This one is my favourite text, I'll translate it to you quickly."

Perhaps it was a souvenir of beautfy. Perhaps it was something irremediably lost. One could imagine a quiet landscape in autumn, or forgotten love. One could believe everything existing again. Hesitant words of an out-of-time conversation. It was like far-away music, one that couldn't be imagined any more. No, one didn't have the right to imagine something like that. They very last ruin of something that happend before sleep comes.

As you will notice, there is a Durutti Column track on the cassette titled Sleep Will Come. Yes, all the three texts have something to do with one of the tracks. But Annik says it doesn't matter if people don't realise that, they can take them in any way they like. "He's very good, Jean-François. He listens to the music, and he knows people like Vini Reiley, and from that he imagines a text, sentences that he could write about the song. He has a lot of imagination." But Annik emphasises that it's all his personal interpretation, and everyone is free to make their own associations.

On the next page to the woman in a convent is a text about a man in a desert (although the drawing is of a lone man standing by the waterfront.) This one refers to Harold Budd's Children on the Hill.

A man on his own in a desert. There are huge rocks behind him, and skies that have killed everything that lived. The man waiting for the time to go by. The only place where the man can be far away from everything, where nothing can change. He has a look at the horizon and he can't see anything any more. He closes his eyes to imagine the children on the hill...

Back to the cassette itself: as mentioned earlier, it includes a Brian Eno interview and Jeanne Moreau talking, on top of the music tracks. The idea of including talking was an attempt to break away from the rock tradition. "It was a coincidence, but what they talk about is quite relevant to the whole music and the book. The way Brian Eno talks is, again, so soothing and in such a wonderful voice that it's really pleasant to listen to. I've heard it maybe thirty times now and never get bored listening to his voice and what he says. It's the same with Jeanne Moreau - I realise hardly anyone in England can understand what she says, but it's mostly comments on life: the way she looks at things, at people, at life, death, anything to do with music or cinema really." And in case people didn't want to listen to the talking repeatedly, those two tracks are included at the end of A side and at the beginning of B side, so that you can turn the cassette over without playing these parts.

"It took a long time to organise it all, because first we had all these people to get in touch with, and it took a long time to get all the tapes together. So the basic idea came about... in July, yes, I remember, because when Shack Up came out, we first pressed 3,000 copies, and when you're not rich, you've got to buy those little stamps to put on the single, because you have to declare to the copyright society. If you're rich, you buy your own bumber and put it on each label, but if you're not rich, you have to buy those little stamps. So we were putting these stamps on, and I remember it was then we talked about the tape. It took a long time because some of them live in America, and you know Martin Hannet is very slow (laughs), things like that. John Foxx did the jingle especially for us, he had to find time to go in to the studio. It took quite a long time to get in touch with Jeanne Moreau because she lives in Paris and she's busy all the time. So it took 3 or 4 months to get it all together. "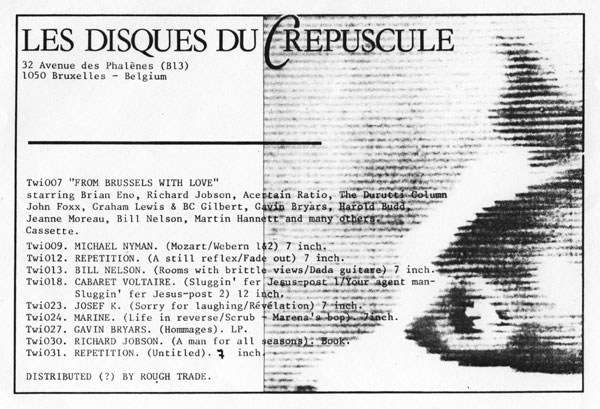 After FROM BURSSELS WITH LOVE, Les Disques du Crépuscule released singles by Michael Nyman, Repetition, Bill Nelson, Josef K, Marine, and a 12" by Cabaret Voltaire. Michael Nyman is a pianist who has previously released an album on Eno's Obscure label, and has been actively performing in London and Europe with his own band consisting of brass instruments. He's also been working with David Cunningham of the Flying Lizard fame, and with Patti Paladin (one of the Snatch, and currently singer with the Flying Lizard). Repetition's synthesizer player, Andy Hoover aka ASDH, has contributed a Joy Division article to this magazine a while ago (the March 1980 issue.) He formed Repetition with Ex-Spizz Energi Pete Petrol and the singer Sarah. I have heard rumours that two of the five members have left the band, or that Pete has left to form a new band, and I'm not sure what the current state of the band is. Anyway, the name RG that's credited as producer for their track on this compilation is Rob Gretton, the Joy Division/New Order's manager. I don't need to explain who Bill Nelson or Cabaret Voltaire are. Josef K is a band from Scotland, which is now seen as the most up and coming scene after Manchester and Liverpool. The music of Josef K, and their colleagues on the Postcard label, Orange Juice, is bright and cheerful, in contrast to the trend up to now - though they're not brainlessly cheeful and still seem to be dragging some angst behind them. And Marine are from Belgium.

In the pipeline are an album by Gavin Bryers, known for his albums on Obscure label, a single by Eric Random from Manchester, a single by Teardrop Explodes (singing in French!), and a classical music album. A book of poetry by Richard Jobson, whose poetry reading is included in the cassette, is due to be published by Crépuscule too. "We like to mix things together, like a book, drawings, music, speech, you know, everything. Crépuscule is not really a record company, it's just two people putting out records by bands they like."

As they are not a "record company" as such, there is no such thing as a "Crépuscule artist" either. Most of the artists are on other labels, so projects can only be realised if those labels are flexible enough and the artists themselves are keen. "Most of the bands we meet when they come to Belgium, because we promote the concerts at Plan K. And usually they like Brussels, they like Belgium, and they're interested in doing something new. It's just a whole different attitude to it used to be: ten years ago, you recorded for CBS and nothing else, but now they're happy to work with different people, they're not so exclusive." And of course, for the artists it means getting more attention in Belgium and France. Not that they'd be interested in groups who are keen to work with them just for that purpose. Once they were working towards a concert for a UK band, who said it would be more effective after the album release. "I told them, how boring, you can only think about the album, the tour, things like that!!"

Repetition is a special case - they had never released a record elsewhere, and their second record is also due to appear on Crépuscule. "When they wanted to do another record with us, we thought it may not be a good idea, it would be better for them to be on a British label now. It's difficult in a way, as we're based in Brussels, people don't know how to get in touch with the band. But they want to stay with us, and I like what they're doing, and so does Michel."

With all their releases, most of the pressed copies are exported to UK. "It's a bit silly, but it doesn't really matter. So far all the records we've made are quite accessible in England and in Belgium as well. If they had been released in England, there wouldn't have been so much success in Belgium. So we're on both sides - they're as successful in England as they would be if they were released over here, and they are successful in Belgium because they are made in Belgium. We get attention from radio stations and newspapers. They realise it's made in Belgium by people from Belgium so they say, 'oh, I want to buy the latest Factory Benelux release, I want to buy the latest Crépuscule release'."

What about export to other countries?
"It's very difficult because we're small. In England it's easier because Rough Trade helps a lot. But although we don't export to Sweden, we got letters from Sweden and they said they got it from Rough Trade. Shops from all over the world go to Rough Trade and buy things. We're trying to get a better distribution in Germany, we get so many letters from Germany wanting to buy the cassette. We only pressed 2,000 copies first and thought, 'well, we probably won't sell any', you know, we thought nobody would like that kind of thing. And we got rave reviews and everything!" In fact they've so far pressed 6,000 copies of the cassette. "We were very surprised because the whole thing, it's very quiet music. Even A Certain Ratio piece could be regarded as background music. It's all quiet. It's a big mixture of everything, a bit of classical music, accoustic music. I regard it as what's happening, what's best in every field. I think A Certain Ratio are THE best funk group, Vini Reiley THE best guitarist in what he does, Michael Nyman and Harold Budd are wonderful pianists, Martin is really good at noises and knobs and all that kind of thing, Repetition is the good side of the New Wave or I don't know what you call it, Richard is a great poet (laughs). The Names are a good Belgian group."

Perhaps everyone has a side to themselves that seeks that quietness. The name of the label itself, "Twilight Records" projects stillness and calm. It's a joy to come across such a soothing label.

Right to exist is better than silence.
It's not easy, and it's only the beginning.
Norge (Belgian poet)





© Akiko Hada 1981/2019