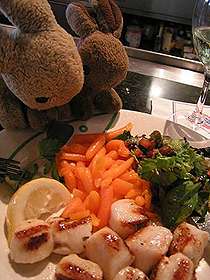 27 Feb: After the big tuna steak dinner upon our arrival in Boston, I had to have try some more local seafood, so went to a branch of Legal Seafoods (a big chain of restaurants & fish suppliers) not far from the hotel or the ICA (where we'd seen "Made in Mexico" exhibition). The menu was so extensive that I couldn't make up my mind between chilled clams and grilled scallops, in the end I went for the latter - simple but tender and tasty, and the day's vegetables turned out to be baby carrots, so the Bunnies were happy too. (But the dish someone a few seats down at the bar was having looked wonderful too - a big salad platter with different shellfish, squid, etc. on top.)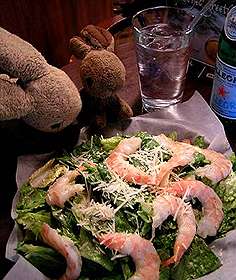 28 Feb: There had been a serious fuck-up with my flight booking and I ended up giving up flying down to Atlantic City the previous evening and staying at Hilton at Boston Airport (a very good hotel, cheap, friendly and great service), flying straight down to New York at lunchtime instead. Before our departure I sat down in the pub at the airport, looked at the menu which was absolutely meat-orientated, but the waiter said no problem, he could get me a "caeser salad with shrimps". Funny how the Americans call those huge prawns "shrimps", isn't it? ;-)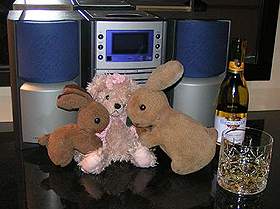 It was sunny and hot in New York when we arrived (and it remained so throughout our stay.) Checking into our hotel room, I was surprised that Anna, my roommate, was already there (her BA flight from Manchester had arrived an hour earlier than scheduled) and that there was a friend - Rosie - waiting for the Bunnies too! After all the stress of air travel in the US, we desperately needed a drink, so we opened the mini bar...

In the evening we went to a Vietnamese restaurant on 9th Avenue with our other friend from Manchester, Alyson. She had a chicken pho, we had a tofu omlette/pancake, but I didn't get to take any decent photo.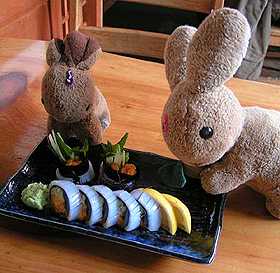 29 Feb: Went downtown (Apple Store Soho, etc.) and then walked up to St. Mark's Place for a sushi lunch at Hasaki, a place recommended by Fast. We had a simple 7-piece-and-maki set, plus this squid + uni (sea urchin) + cucumber + seaweed + shiso leaves all rolled up. Yummy! That was our only meal for the day, in the evening (after the Deep Purple show) we hit the vodka bottle again - nearly finished it in fact - and forgot about eating...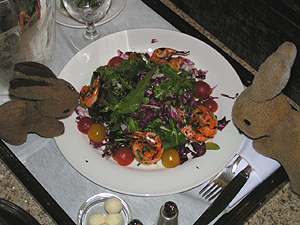 1 Mar: Now I was seriously tired from the accumulating alcohol in my system and lack of sleep, I decided I'd get some room service food and have a nap. Again the "shrimp" in the Spicy Grilled Shrimp Salad turned out to be huge prawns - and very spicy and a little garlicky too. The ginger dressing on the salad was subtle and very nice. (My roommate said "God that smells nice!")

My plan to have a nap didn't really work - after half an hour, a Canadian friend came over to deliver a souvenir for me: no less than 3 bottles of Canadian wine! I drank the Chardonnay straight away (not too fruity and fresh), and so the boozing went on...

And now, to the BIG sushi & sake crawl in East Village chez Fast...