15 August: An evening chez Eva, Barbara, Herbert, Suzy, Fritz, et al.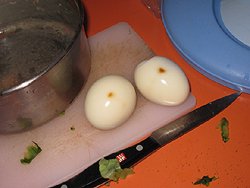 We get too excited watching the special 70s edition of Top of the Pops (with Generation X, the Stranglers, Siouxsie & the Banshees, Plastic Bertrand, the Damned, etc.) on TV, we completely forget about these eggs we were boiling for the salad - and they end up being burnt!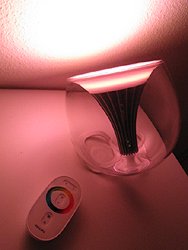 A chic Philips lamp with a remote control to let you fully control the colour temperature of the light...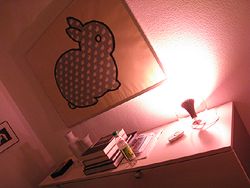 ... lighting up my bunny silkscreen :-)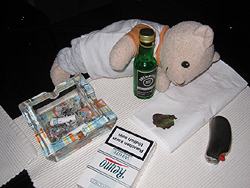 Blund (wearing a very limited edition www.bunnies.de T-shirt) happily comatose after a few sips of Icelandic Brennivin.

(UsaKousa were on Russian Standard vodka with orange juice, the other humans had beer, wine, absinthe, etc. etc...)