London, 8 May: We went to a Moroccan restaurant on Gloucester Road with David L & David D, where there were two belly dancers, both too thin and not particularly good. But then they went around the tables, and one of them showed us how she could shake her tits (obviously implants) without moving the rest of her body! Kousa got lucky and had a ride on one...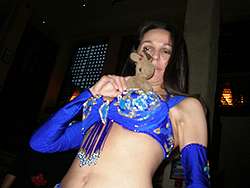 London, 9 May: Dinner at the Cleveland Street flat. Ricca's friend Peko from Tokyo had found this ceramic bunny in an antique shop in Cotswold the day before.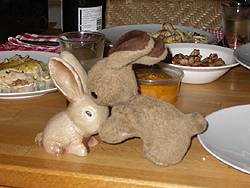 Tokyo, 23 May: We met him (her?) again in Tokyo and went for a fabulous meal at Narukiyo, a standing bar in Shibuya/Aoyama area. (Here the bunnies are staring at slices of lightly pickled aubergine, with grilled broad beans in the background.)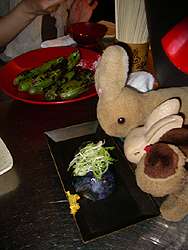 Confronting a big prawn...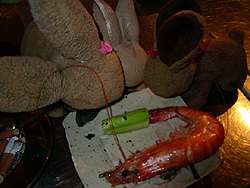 ...which came from this big bowl of champong noodles. There was another, equally big, prawn hidden under the noodles, as well as lots of squid, shellfish and vegetables.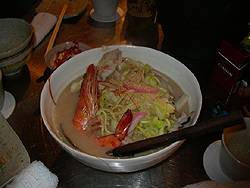 The veg & sake bottles on the counter.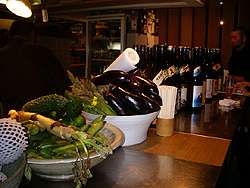 Earlier in the day in Shibuya, we had some cold udon noodles, vegetable tempura (inc. a huge slice of carrot!) and sake for lunch :-)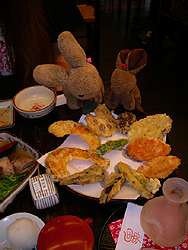 And between London & Tokyo we were in...

Nagoya, 20 May: Spotted from our window at Hilton - a Hotel Rabbit (or is it Hotel Labbit??)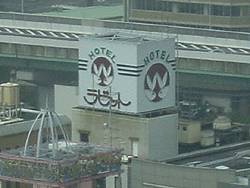 (© Hanako Akasaka)

Instead of heading for Tokyo with the band, we stayed on for a lunch with my relatives in Nagoya, at Asada, a Kanazawa-style restaurant above the station. A light soup with prawns, crabmeat, lotus root and other veg on the left; a seaweed & shellfish salad on the right.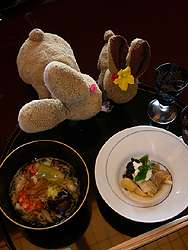 The restaurant's original sake, served in this glass decanter (with ice cubes in the middle bit to keep it cold.)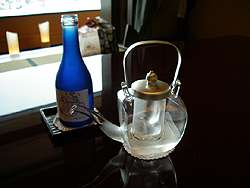 Tokyo, 22 May: Garden view from our room at Four Seasons.



Oh, and I've got my copy of the latest issue of Whisky Magazine (which I came across on the Food Floor of Harvey Nicks in Knightsbridge, of all places!) autographed... :-)