Click on the image to enlarge...

London, 18 June: We've flown in from Berlin early in the morning, meet up with Akiko's other sister, Hiroko, and her boyfriend, at Yauatcha (owned by the same people as Hakkasan & Wagamama) in Broadwick Street for a dim sum lunch.

Everything we order is delicious - esp. the scallop & kumquat dumplings! - but like at Hakkasan, you're not allowed to take any photographs :-((( However, before they came over to stop me, I've managed to photograph our drinks: my Madame Kwan (raspberry juice, gin & jasmine tea), and Hiroko's smoothie, also with tea. Both very refreshing.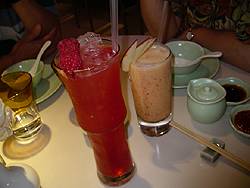 Meeting up with Dave and Jane in the afternoon. Dave fiddling around with his mobile (saving Jane's number)...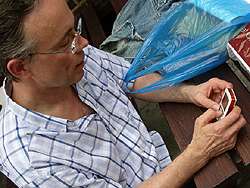 Dave & Jane outside the Tower pub, Cleveland Street. (Sorry the focus is on Usako's bum!)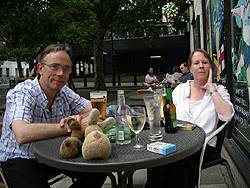 UsaKousa are on Pimms this time around.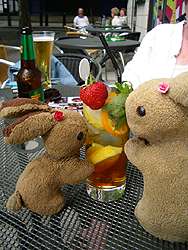 And later on, outside the Jeremy Bantham pub in University Street: Dave, Pierre from the Centre of Attention, and Jane.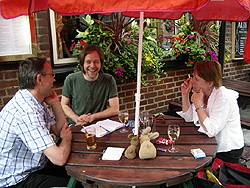 Dave photographing our salmon salads with his mobile/phone.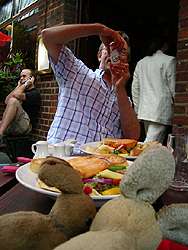 The salad from above.