3rd of November is a Bank Holiday in Japan (called "Culture Day"), we went to Nagoya for a lunch with our relatives at Yoshikawa, the same restaurant we went to at the end of last year. This time the place was completely packed - they have a space for wedding ceremony & reception set in a Japanese garden, and that whole section was booked months in advance.
So we ended up in a little room at the front of the house, looking out onto the small front garden - where these stone cats looking out for prey. (Many little birds came and went all the time.) Beyond them, the main dining area of the restaurant, where a little girl with an elaborate dress was sitting with her family. She must have had something to do with the wedding (or another wedding earlier on or whatever.)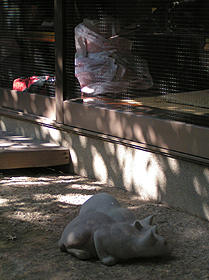 After a little while I noticed the girl had a little dog with her - which kept moving its position, as did the girl. My cousin told me "she's obviously bored, she's been looking at the bunnies" :-)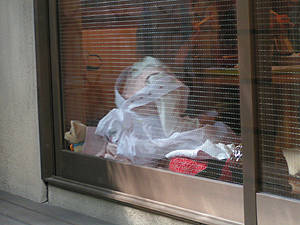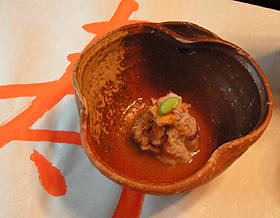 A little appetizer of chunky crabmeat with two kinds of flower petals (yellow and purple), ginger and sweet vinegar. The table mat had one big character for "happiness" or "gratulation" (each one handwritten in orange Indian ink), as it was a holiday today.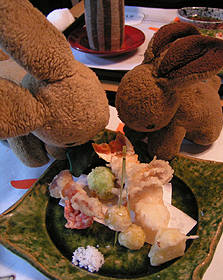 The tempura course was beautiful: a prawn, two slices of the bloody expensive matsutake mushrooms, ginkgo nuts (speared with pine leaves, at the front), the red block was some kind of pickled ginger, the green ball next it was made of minced green beans, and a ball the same size (hidden in this pic) made of pumpkin.