Wed, 27 July: when we came back into town after a long day of sightseeing, starving, we decided to sit down for a dinner with Janine from London (well, Stanmore, Middlesex, actually :-) at the restaurant of Hotel Centrum, where Janine was staying.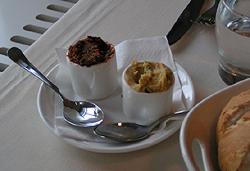 After we've ordered our food, the waitress (young, friendly and chatty) brought us some bread and two kinds of tapenades: a very good humous and an olive/tomato paste.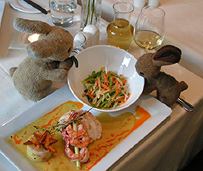 Our grilled monkfish with prawns on a skewer of lemonglass in a saffron sauce, and a glass (well, two) of house white. The funny thing on the left is a boiled piece of potato, garnished with thin slices of baked carrots.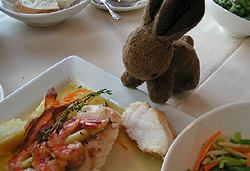 This was probably the thickest piece of monkfish I've ever had... (Thanks, Kousa, for modelling for the purpose of size comparison :-)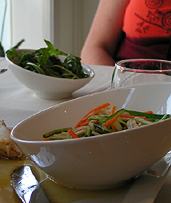 And we all loved those side dish plates - they are slightly angled, so that they sit well in the corner of the main dish. They reminded me of Jez's chic urinals from Munich, and I've told the waitress "they look a bit like men's toilets" too :-)