We went for a dinner for 4 at Hacker Kitchen in London. CL, the Taiwanese programmer, loves cooking, and he takes bookings for 2-4 people at a time. You tell him your dietary requirements and the rough budget (typically 25-35 pounds for 4, but we went for a bit more upmarket option, and our meal with 9 dishes came to 45 pounds.) You bring your own drinks - and can also nip out to the off-licence down the road if you run out (like we did ;-)

First of all: the hand luggage restrictions to/from UK airports at the time meant that I couldn't carry both my camcoder (needed for work) and my decent digital stills camera, so all the images below were taken with the former, hence the dodgy quality.

Every dish looked a lot more exciting in real life - for a sample of how they really look, check out CL's cooking photos on Flickr.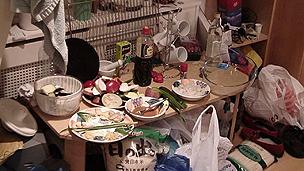 The venue is a tiny but very friendly & nice studio (with a balcony for smokers) in one of those grand apartment blocks near Queensway/Bayswater. As you walk in, you're in the kitchen area - with all the ingredients already lined up for the dinner.
The first course is vegetable tempura - very crisply fried in an electric deep-fat fryer (a good idea!) and elegangtly served with dill & spring onion.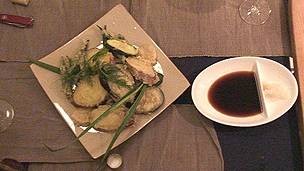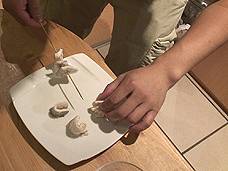 Next, slices of sea bass** belly get lightly sauteed on a skewer, so that they form curly shapes, then arranged on a dish...

**CL says he usually uses mackerel, but couldn't get it on this occasion.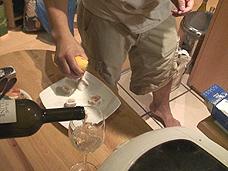 ... and sprinkled with fresh lemon juice. (While we all sip wine, chat and watch.)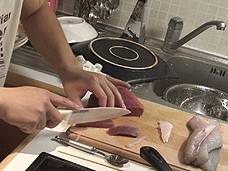 CL then produces this gorgeous looking slab of tuna and cuts some slices off (with his ceramic knife.)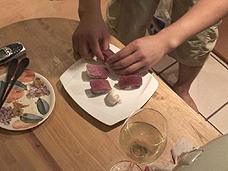 The tuna gets arranged on top of the sea bass pieces.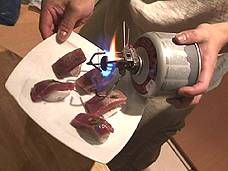 Then they get seared with this portable burner!!!
A little bit of wasabi is put on top of each piece, then truffle oil poured over the whole thing - and we all tuck in. Yummy!
A little break (smoking on the balcony, etc.) We've been listening to Animetal in the background, including their version of the theme songs to the 70's Kamen Rider TV series - which was huge not only in Japan but also in other parts of Asia. So CL, Ricca and Akiko decide to practice some Henshin! (that's what they do/say when they transform themselves from their human form into their cyborg state.)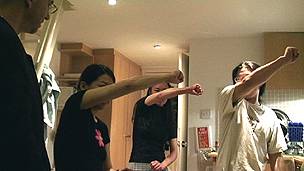 Rider...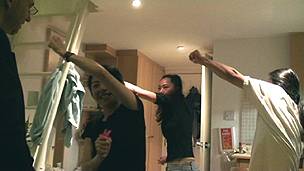 ... Henshin!
(I was obviously drunk - I look useless!)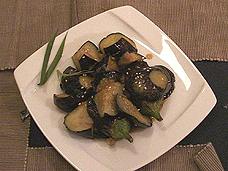 Next we are served aubergine with honey miso sauce & sesame seeds.
Another little break (we are hopeless smokers!) Animetal was followed by some death metal, some of us have been singing along and going "uwaaaaaa!!"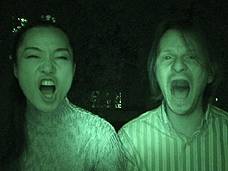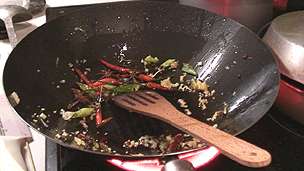 Back to food: lots of chilli & garlic - mmm!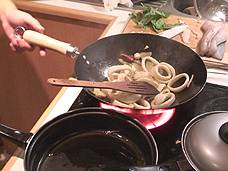 Squid rings are added to the pan, with soy based sauce, abalone mushrooms (aka king oyster mushrooms), huge slices of ginger and some Thai sweet basil...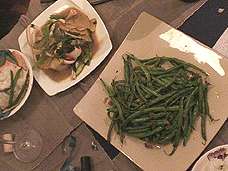 ...and served with green beans, which have been briefly deep-fried and then sauteed in chilli sauce.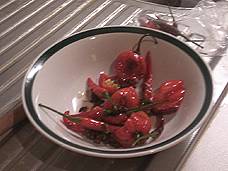 The Food Group guys will surely remember the fumes from these chillis filling the air of the entire kitchen at our dinner in London last year? Well, tonight, again, they fill the air and cause a few of us to start coughing!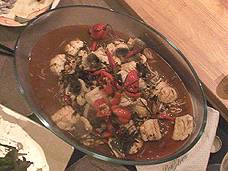 They are used in this fish dish, using the rest of the sea bass and with Szechuan peppers adding another refreshing flavour.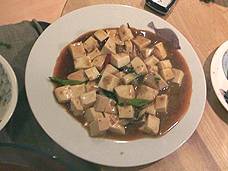 Szechuan Ma-bo Tofu without meat :-)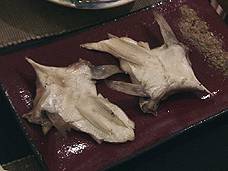 After the rest of the fish is cooked and eaten, the chins are grilled, for all of us to nibble at. Mmmm...
By this point, we've had 6 bottles of wine between us, and Ricca and Dave start headbanging - and the chef joins in!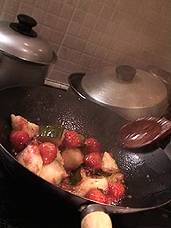 Left: caramelising the fruit (which we dip into ice cold water before eating.)

Below: UsaKousa are happy with their own, uncaramelised, strawberries.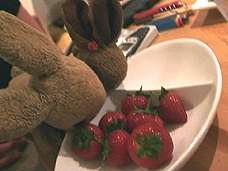 We then nip out and get 2 more bottles of wine, and continue chatting late into the night...

All the dishes were pleasure to both the eye and the palate: very interesting combinations of flavours, spices (Japanese, Chinese, Thai...) and colours. It was also fun to watch the food being prepared, while drinking and chatting (and headbanging ;-) Very highly recommended for an unusual meal out at a reasonable price!

Comments, corrections, complaints, etc. should be sent to usakousa@gmail.com