Click the image to view it at a larger size (35-55K)
Tuesday, 4 November, Stuttgart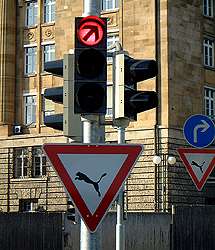 Traffic signs spotted right outside the parking area in front of the main railway station. I didn't see any wild cats around in the area (not to mention jaguars, cheetahs, panthers, or whatever this is meant to be) and don't know what it's supposed to tell car drivers. A taxi driver friend of mine says "this must be a joke", but I guess it could mean "when joining the main road, beware of cars driving at high speed and eating you"??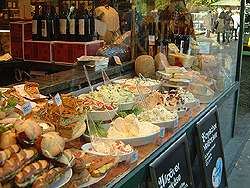 When you are on the road with a band, you often end up not getting enough to eat on show days, and you compensate by eating non-stop on your off days. It was one of those "hungry" days for me where I just couldn't stop eating - I'd just had a lunch and done some shopping, when I came across this cheese shop and had to buy a piece of quiche to take back to the hotel. Spent a few minutes in front of the window, being unable to decide between the salmon & spinach sort or the vegetarian one. In the end I went for the latter.
Wednesday, 5 November, Frankfurt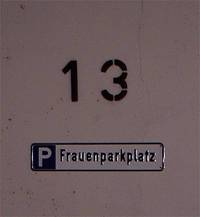 As we reached Frankfurt and drove into the car park of Arabella Sheraton Grand Hotel, we immediately saw a free space right ahead of us, with this sign ("women-only parking space".) We thought "easy parking space for stupid women drivers who can't cope with tight corners and reversing into a small space" and found it outrageously un-PC (it didn't stop us from parking there though ;-) and only later realised that the well-lit area nearest to the hotel entrance, probably with a security camera too, was reserved for women so that they felt safe alone, and fully approved it.
Thursday, 6 November, Dortmund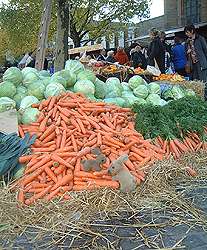 Having arrived in town in mid-afternoon, we went out for a walk in town centre - and found a farmers' market, where Usako and Kousa went bananas - no, they went carrots :-)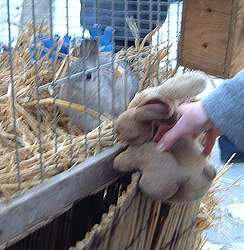 Further down the street they had some animals - a pig, goats, chickens, and... rabbits!
This photo is blurred because I didn't want to use any flash.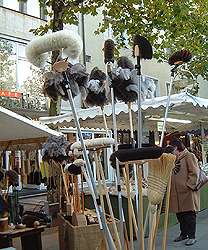 And further down still, a big stall selling nothing but brushes of all sizes and purposes.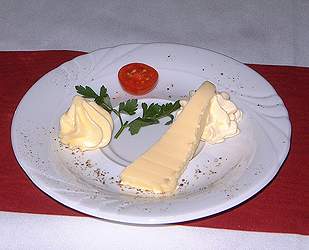 In most restaurants in Germany, you don't get butter served with your bread. At the expensive hotel in Düsseldorf and here in Dortmund (a tiny Holiday Inn), though, they did, and this is how the butter came with my bread...