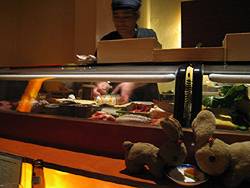 UsaKousa on the counter eating their veg, while the chef makes some special maki in the background. We get the best seats, where we can watch him & his young assistant prepare the food.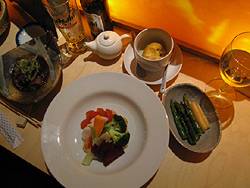 From L to R: deep-fried aubergine & red onions marinated in spicy namban sauce; salad of crispy organic veg with yuzu-flavoured moromi miso dressing; steamed prawn cake, butter & ponzu flavour; asparagus in light dashi sauce.
Screening of Analogue at Arsenal. Stefanie Schulte Strathaus (from the cinema), Peggy Gale (Canadian curator) and Chris Meigh-Andrews (UK curator) giving an introduction.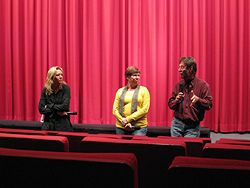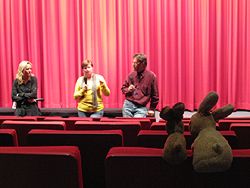 ... and U&K in the audience...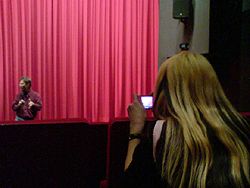 ... and a "making of" shot.
© D. Hodgkinson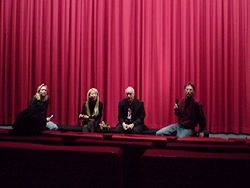 The talk after the screening of the UK Programme 1.
© D. Hodgkinson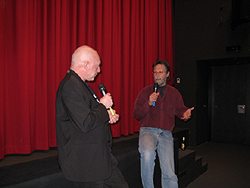 Gavin and Chris in a heated discussion.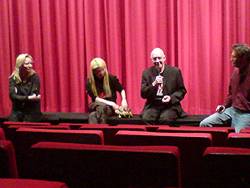 Gavin looks cute, I'm blurred.
© D. Hodgkinson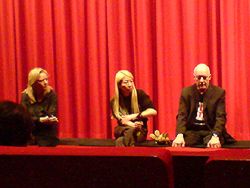 Now I'm in focus but not cute.
© D. Hodgkinson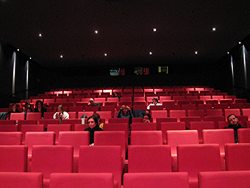 The rather sparsely occupied auditorium - two people are taking photos of the discussion panel!
Sunday 30 March: Afternoon drinks & snack at the Hamburger Bahnhof cafe, after looking at the Wolfgang Tillmans exhibition. The curry soup with prawn dumplings is an interesting combination of flavours, not too heavy and very enjoyable.