16 April 2006: Easter Sunday breakfast (12-3PM) at Galerie Zwinger, where Heinz Emigholz's exhibition is on.
(Click on the image to enlarge)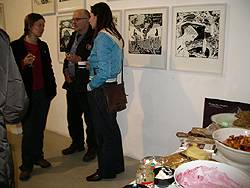 We got there late-ish, then was too busy chatting & drinking too take any decent photo of the food before it was all gone, but there was lots of fruit salad, yoghurt, cheese, easter eggs, salami, bread, cakes, chocolate. (In the background: Annette Frick, Wilhelm Hein, Heike Dander.)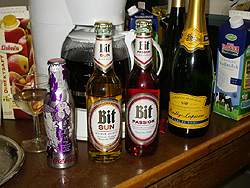 There was coffee and orange juice, but most of us drank prossecco. There were some colourful bottles on display - apparently some trendy magazine, who has an office in the same building, gets them for free from drinks companies and pass them on. The purple alminium bottle is coca cola, bottled in South America.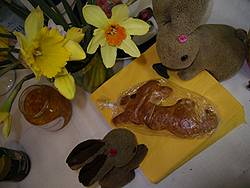 They also had these bunny-shaped pastries (from KaDeWe) for their young guests - such as UsaKousa.



A happy looking dog.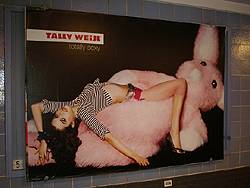 Poster spotted at the underground station.