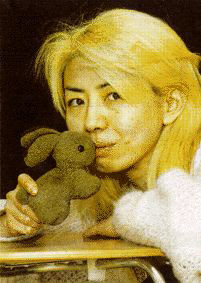 United at last: toy bunny "Kousa"
and the Japanese Akiko Hada
from Schöneberg
Photos: Becher, Rodarl
---
By Domenica Riecker
---

Schöneberg - Akiko Hada is happy. Her toy bunny "Kousa" is back again! The 35-year old video artist had sent 500 "wanted" letters to taxi companies, placed ads in newspapers and even offered 1,000 Mark reward, after she had left her cuddly toy in a taxi van (BZ reported).

"On Saturday evening the telephone rang," recalls Akiko. "The taxi driver had just read the BZ on Sunday, fresh off the press - and recognised the bunny in it." He got into his car, brought "Kousa" back to her owner. "He had already given the little animal to his son," says the Japanese.

Did he take the promised 1,000 Mark reward? Akiko: "Yes! He grabbed the money - and then disappeared quickly."*

1,000 Mark for a toy bunny, which she had bought for 5 Mark 99 Pfennig years ago - does that not bother her, looking back on it? Akiko "no, I had offered that amount myself, so I paid it too. But in fact 'Kousa' is worth a lot more than that to me."

Rolf Germerodt (50) from Pankow: "My parents have given me a collection of old, small pictures made out of cigarette packets. They are from the days before the First World War. If they were gone, I would pay a good 1,000 Mark for them."

Bodo Siegler (39) from Heiligensee: "I wouldn't spend1,000 Mark on any object. But I still have my first bicycle, that's now 22-years old. If that was to go missing - I would cough up, let's say, 300 Mark for it."


Dirk Albutz (24) from Steglitz: "Should the love letters from my girlfriend Franziska disappear - I would pay 1,000 Mark for them straightaway." What does the beloved one say? "For me my grandma's 100-year old mandolin is worth that much money."


Sigrid Müller (53) from Friedrichshain: "I have an album of Alpine photos. That's so important to me, that I would give a lot of money for it. Because I'm an absolute Alps freak, I've been going to the mountains once a year ever since the Wall opened up."